Affiliate Marketing For Bloggers In 5 Easy Steps
Affiliate marketing for bloggers starts with creating a great blog. Now "great" can be subjective.
Opinions can vary greatly as to what constitutes a great blog but the most important aspect is quality content that is congruent with whatever niche you choose.
Here are the top 5 affiliate marketing for bloggers tips to get started:
1. Choose Your Niche
This is the obvious starting point since you can't have a successful affiliate marketing blog if you don't know what niche you want to be in. There are tons of ways to do niche research but 2 of the best, in my humble opinion, are Pinterest and Facebook.
Both of these social platforms have an enormous amount of people who visit them daily. And they have an enormous amount of topics that people view.
If you're not sure if the niche you want to pursue will be profitable go to these 2 sites and plug your niche name into the search bar, choose "groups" and see what comes up.
In Facebook it looks like this…


Find some groups in the niche you're considering and check them out. How many members do they have? How active are the? This will give you a ton of information about the niche you're considering.
In Pinterest it looks like this: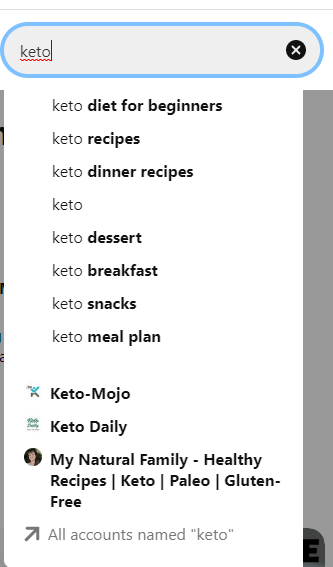 And as you can see in Pinterest, you don't even have to enter the full search term, you will get other ideas listed below. This tells you what other topics within a given niche people are looking for!
And one more thing to consider about a niche, don't be afraid of a niche that's really competitive, that just means there are a lot of potential customers.
To give yourself an edge, though, don't go broad in your niche, drill down. For example, instead of using the niche Keto Diet, drill it down to Keto Diet for people over 50.
Once you've chosen a great niche, you need products to sell. Now it's time to find an affiliate network and sign up. There are tons to choose from and which ones you choose will depend in part to the niche you're in.
If you're niche is something that you would want to sell physical products – like yogas accessories, golf accessories, cookware, etc. your first affiliate platform should probably be Amazon.com
If your niche is the type of niche where digital products are popular – think learning to write, parenting tips, or dog training, Clickbank.com is a great place to find a wide variety of digital products for you to promote on your blog.
NOTE: Dog training, and many other niches, can straddle both digital and physical products. For example, you can sell a digital dog training course and also offer physical products such as leashes and dog pens.
2. Your Blog Needs A Home
Affiliate marketing for bloggers means you'll need a blog! Your blog will need a domain name and a hosting account. It may seem confusing but think of it like this – the domain name is the name of your website, it's kind of like your online address.
The hosting account is the "property" your website sits on. It's like your online lot.
There are many places to get a domain name. They're cheap too. You can usually get one for about $10 a year.
When choosing a domain name here are some tips:
Keep them name fairly short
Make sure the name tells people what your blog is about
Only get a .com domain name
A hosting account will only cost a few dollars a month so this isn't a big expense. Most hosting accounts and/or domain providers offer a lot of resources to get your website set up and ready to go.
3. Add Content
Affiliate marketing for bloggers means that people in your niche will come to you to learn more about your niche topic. Since a good niche includes lots of people who are passionate about it, they are always interested in sharing ideas, learning ways to improve or getting motivated.
If you consistently add new, interesting and helpful content to your blog, people will come back over and over again.
So, what type of content should you add? Well, ideally you've chosen a niche that you have at least a little interest and experience in.
If so then you arelady have a good idea of what issues or problems people in that niche routinely encounter.
So, with this knowledge you can provide content that will help your audience overcome any problems.

For example, let's say you're in the golf niche. People are incredibly passionate about golf. They are always looking to find ways to better their scores, looking for new and better equipment or the best golf courses, etc.
Maybe you could write an article about the best golf courses in a certain area, or a review of the newest putter. Or maybe record a video with tips on improving your putting.
You get the idea. Find what problems or concerns people in your niche have (Facebook and Pinterest are good places for this) then provide helpful content that will help your audience overcome that problem!
And content is more than just the written word. A well written blog post, if done correctly, will attract a large audience. But, you can also add video, info-graphics and any other type of content that will help your audience.
The 2 big things to remember about content are:
Be consistent. Don't write 10 articles one week and then not write another word for a year.
Always create content with an eye toward providing value to your audience.
4. Build A List
I think this is one of the single biggest mistakes people make when just starting out, they fail to optimize their website visitors.
I talkk about this a lot but I've heard, and my personal experience confirms it, that upwards of 98% of the people who come to your website won't buy anything and they won't ever come back.
Think about that, that's a huge number of people you'll never see again.
When you consider all the effort you put in to creating great content and driving traffic to your site, dang, what a waste!
The good news is that there are ways around this, namely building an email list.
It's pretty easy to do, here are the basic steps:
Get an autoresponder. This will automate the process of sending follow up emails and adding subscribers to your email list.
Create a lead magnet. This could be a short report, a checklist, a short tutorial video, etc. Just think of something that will help your audience solve a common problem in your niche.
Add optin forms to multiple places throughout your blog and use your lead magnet as an incentive to get them to sign up to your email list.
Create helpful followup email sequences. With the autoresponder you can create these followup messages once and they will be delivered automatically over time whenever someone signs up to your email list.
Treat the people on your email list with respect and they will stay subscribed for possibly years to come. Learn how to create the right balance in your email sequence between informational and promotional emails here.
5. Time To Monetize
Building an email list is one of the best ways to make money from your blog. If you do it correctly people on your list will stay on your list over time and when you send promotional emails many of them will buy from you.
But, an email list is just one of the ways you can make money with your blog. Here are a few other ideas to monetize your blog:
Add Adsense. Adsense is a Google product that you've probably seen but just didn't know it. When you go to website you will see ads, many of those ads are Google Adsense. As a blogger, you will be a publisher. When you sign up to Adsense ads will be placed on your blog (this is all automatic and easy to do). When someone clicks on one of those ads you'll earn a small commission.
Affiliate links. When you become an affiliate for various affiliate programs you will be given a distinct url for the specific products you choose to promote. You can add those urls to your blog posts. When someone clicks on the url and makes a purchase you earn a commission.
Affiliate Markeintg For Bloggers
Bloggers have the potential to make a lot of money using affiliate marketing as a way to monetize their blog.
But it all begins with a blog filled with really good contnet.
Now dont' think "really good content" means you have to be a great writer.
You don't.
Create quality content of course, but overall make sure your content provides value for your audience.

Helping your audience solve some problem or teach them something new through your content is the biggest secret to making money blogging.
And remember – the sooner you start the sooner you'll be making a steady income online!